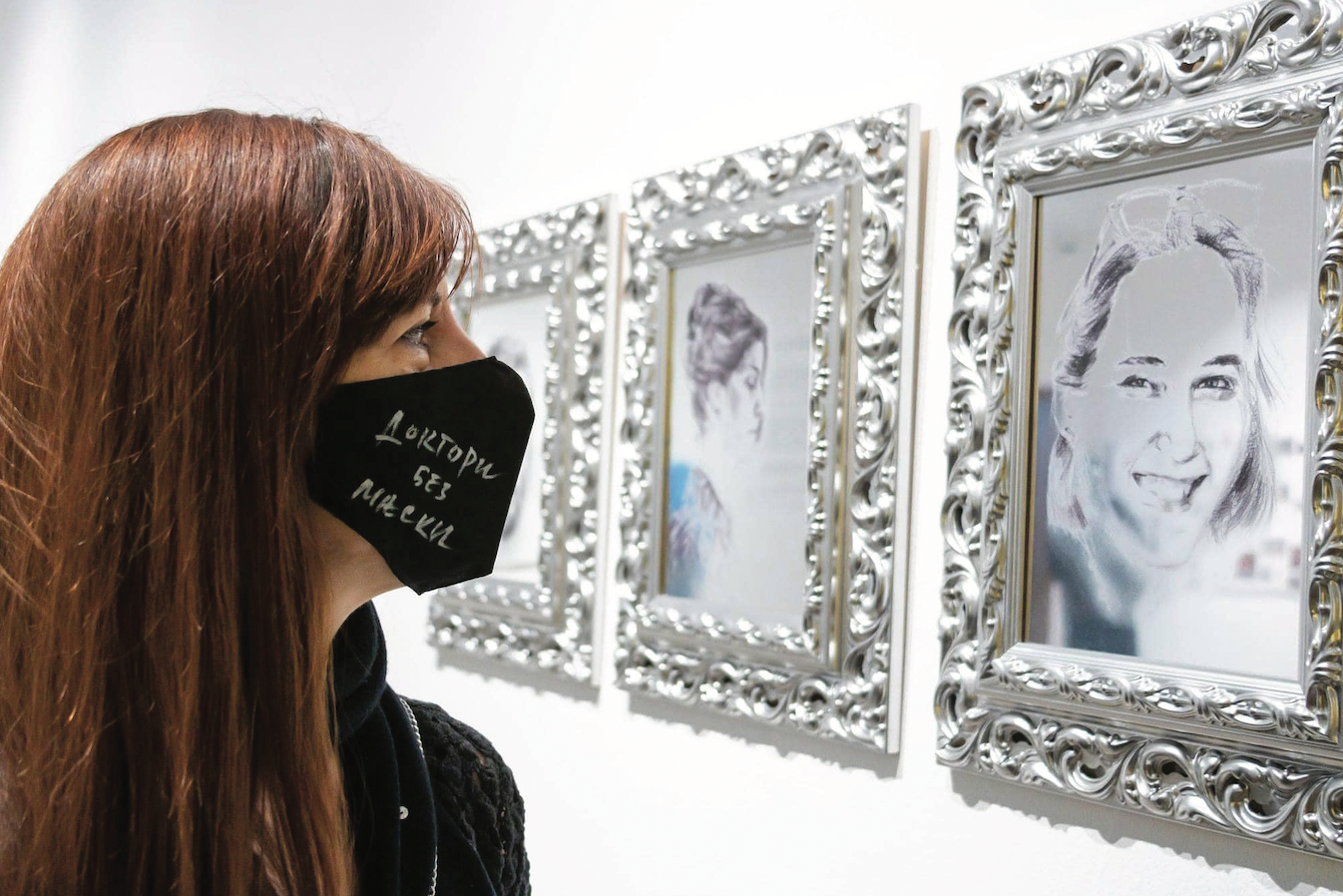 Interview
When did your artistic journey begin?
My artistic journey begins when I was a little girl and received a box of paints which were professional  and I made my first creation with the feeling that I will be an artist. I was so excited and I kept this emotion till now. Of course first was my family my mom Annie and daddy Vessko. They believed in me and that was the most important thing at the time. My mother had friends artists who said: she is talented and she must continue. That was the very important thing in my life. After that the people and events were coming to me in a very mystery way and made my dream come true. My Godfather Kliment Denchev – Klimbo, was an actor, performer and a very good artist. He was my ideal and my inspiration in this first years. I prepared myself in studios of very important artists in Bulgaria as Edmond Demirjian and Alexander Dyakov. I completed the National Art Academy in Sofia in the course of associate professor Galiley Simeonov. I met great Bulgarian artists as Dechko Uzunov who saw my first portraits and tell me some secrets in this magical journey we called art!
2) Which painters have influenced your art?
My Bulgarian teachers was very good in drawing and they learned from the best artists in the world – Michelangelo , Picasso, Egon Schiele and Hieronymus Bosch, Holbein and Rembrandt. For me these are some of the best examples not only for skills but how to be dedicated to art, how be prepared to be strong to have this difficult path. When you see an piece you say to yourself oh, how nice and you go to the other one without thinking how long is the journey of the artist to become so good, or interesting or modern, a vanguard. When I was a teen I knew already that this will be all of my life and on the top of your my dreams will be Leonardo da Vinci, Raffaello. My professor in the Art Academy told us once that he can't be our teacher – Botticelli can or the great Egyptian culture. He was a very good in his field but never forget about the big aims that one can have.
3) How is your Work born?
I come with ideas in a very deferent ways. Everything and everyone can be an inspiration to me. The human body, people and their faces, nature, the city.  My imagination helps me to complete it as a project and of course my work in an Advertising agency helps me to promote, to show and present my work to the audience in the best way that I can. I had the privilege to work in an worldwide company, with the biggest clients in the world and that was a great experience that helps me to be this contemporary artist that I am. I am grateful to my friends who were and are with me in my art and this keeps me in a perfect shape to create.
4) What does painting represent in your life?
In one word – everything. But the most important Art pieces for me are my husband, my sister and her daughter and my close friends. Art is everywhere and that's why in my projects there are some interaction with audiences. For me is very important to make art not only for decorating but to involve people to be part, to do something with their hands and for their souls. Because in this material wold the soul wants its own part of your life. In my project "Doctors without masks" which I started 3 years ago when the lockdowns were our topics and doctors – our lives, I tried to return this tendency – me and my community to help doctors to become famous, to become celebrities, to become more important than some influencers who are without any contribution to the society. To be a real VIP is very difficult and this job the doctors, surgeons is maybe one the most important and they need our real respect.
5) Which artistic events in which you participated were most inspiring for you?
I present my work in Bulgarian galleries since I was a student, I have a lot of participations in team exhibitions in my country, one-man exhibitions and awards. Last 2 years were one of my best one. I made 2 one-man exhibitions and 4 participatins in Bulgaria. Then I present my work "Doctors without masks" in Rome in an exhibition dedicated to Rafaelo. Then the Tour Biennale Europa – Paris – Carousel de Louvre, Barcelona – MEAM , London Espacio Gallery and Venice – a big honour for me that I took a place in such big events. I participated in an exhibition in Brussels with my mini personal corner with works of my series (NO)ORDINARY PEOPLE which was around with my interaction "Try to do your selfie" – drawing on a mirror plate watching in your own eyes. The experiment was more than great! People took a part in an art piece and they could make their own self portraits. I am very motivated to use this not only for my purpose but for art therapy. My work all these years is dedicated not only to art but to hand over my skills to young and elder. Over 20 years I taught a lot of people not only art but how to be prepared to be (NO)ORDINARY PEOPLE. People who give something to our community.
6) Your reflection on today's art.
My thoughts are various – there are a lot of interesting artists with contemporary ideas, very exciting appearance and so on. I like this very much. But I think young artist must learn more classical drawing. This is the base for even modern shapes. I think in all of the arias in our life there are tutorials "how to" but it is not enough. To be an artist you must learn all of your life.
(NO) ORDINARY PEOPLE
The artistic project (NO) ORDINARY PEOPLE by Eva Teneva Zaikoff was born during the lockdown. His first portraits of this project are friends and relatives of the artist mostly surgeons who have been on the front lines during the pandemic. They are therefore heroes who, thanks to their professionalism and humanity, have saved human lives. For Eva, therefore, they are no longer ordinary people but VIPs who must be immortalized in her works. The faces of the protagonists are represented on mirrors, precisely so that anyone can be reflected in their eyes, perceiving their emotions. At that precise moment, all of us, ordinary people, perceive how in reality each of us is the hero of those around us. This project is constantly evolving, as Eva continues her research even with people she doesn't know. His message is clear: each of us is an extraordinary person. The portraits are very expressive, they leave the viewer in contemplation, examining all the details of the face which tells of his experience, of his personality. Eva Teneva-Zaikoff is an artist with a lot of alter egos – drawing, painting, photography, fashion, performing, graphic design, illustration, she was art director in advertising and she is still a teacher. Her work in all of these fields is consistent with giving her best in the humanitarian and psychological aid as well as related to the events of the last 2 years, which were so difficult for the whole world.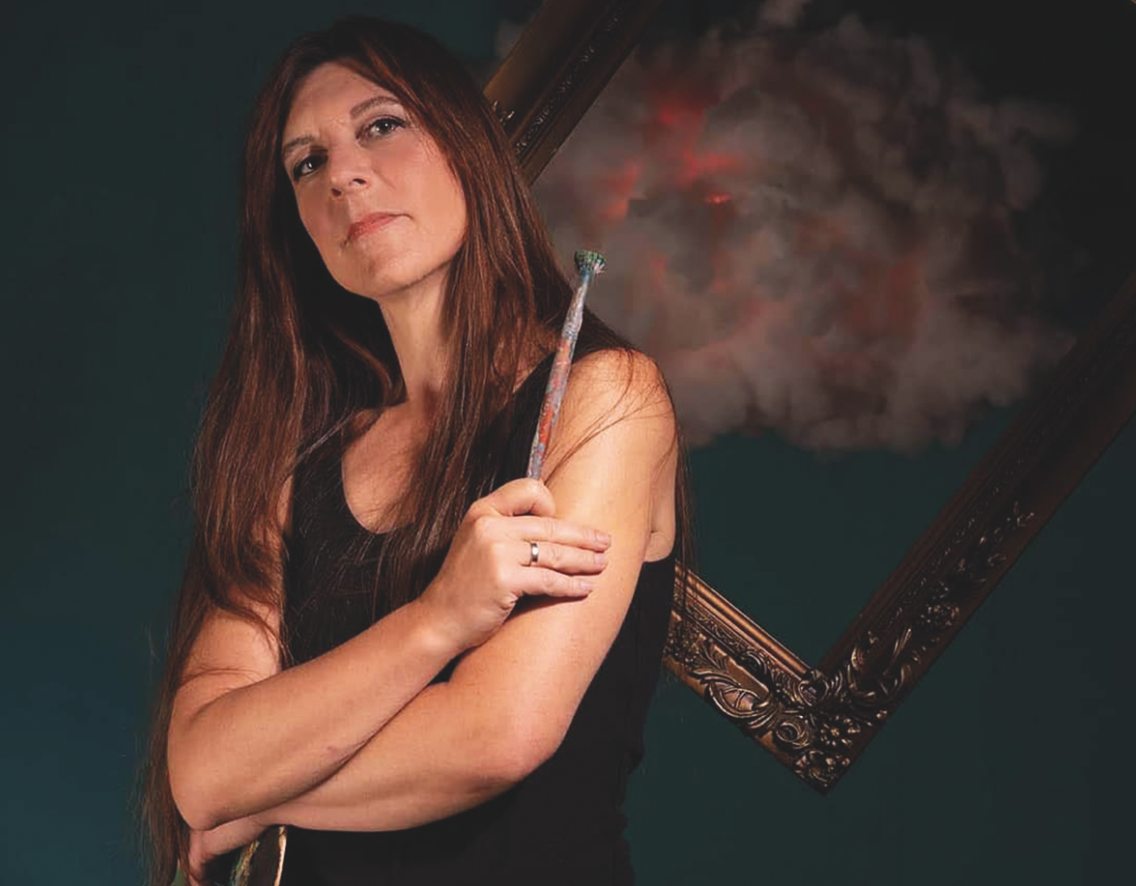 Eva Teneva-Zaikoff, her foundation "Golden hands" is helping young artists and medics to raise their portfolio, their image and skills – this is one of her goals since she was a student. She dedicates her energy to young and small artists. Eva thinks that those without experience must have their opportunity to find their place as creators of beauty and aesthetic. Her students work with her in her art projects and a year ago she and her colleague, friend, publisher and part of the team Dessi Alexieva, they opened Kids Art Gallery in Fox book café in Sofia, Bulgaria for them. Eva has no only education in the National Art Academy in Sofia but in studios of great Bulgarian artist – Edmond Demirdjian, Alexander Dyakov and others. Klimbo (Kliment Denchev) was her Godfather and mentor who was favourite artist both of Bulgarian and the Canadian kids. "Artists are teachers and students all of their lives" – believes Eva. That's why her workshops are so exciting and extraordinary with new medias and materials. "Part of my work is to involve people to be part of art, part of creation. I think this can raise the spirit in new, better way." In this situation of pandemic and war, fear and don't knowing what to think and do, Eva helped people to pass this period in different ways to the next level more motivated and with hope for better days.